About Me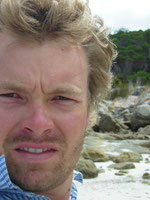 I've worked as a field biologist for the past 11 years, mainly focusing on seabird biology. My primary focus has been the Short-tailed Shearwater Puffinus tenuirostris which breed in their millions along south-eastern Australia.
In the past, during summer I would work up to 4 months on a small, uninhabited island, called Great Dog Island in Bass Strait, Tasmania. An estimated 950,000 Short-tailed Shearwater burrows cover the 370 ha island. Great Dog is also an important breeding site for Pacific Gulls and Little Penguins.
Research interests
My main research interests involve seabird breeding biology, ecology, land and at-sea based threats and behaviour. I am particularly interested in population biology, seabird island restoration such as the use of social attraction techniques, and the effects of human disturbance on the reproductive success of seabirds.
Recently, I have begun quantifying the effects of plastic ingestion in Short-tailed Shearwaters chicks.  I am also involved in a project examining the global migration dynamics of trans-equatorial shearwaters with a number of international collaborators.  
Education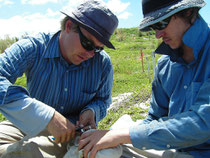 PhD (2011)
La Trobe University, Australia 
Thesis title: 'Effects of Investigator Disturbance on the Reproductive Success of Short-tailed Shearwaters Puffinus tenuirostris'
BSc (Environmental Management and Ecology) (Honours)
La Trobe University, Australia 
2005