Short-tailed Shearwater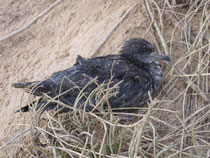 For the past several years I have been studying the Short-tailed Shearwater (Puffinus tenuirostris) in the Furneaux Group, Tasmania.  This research was apart of my PhD which was conducted at La Trobe University.
About 23 million burrow nesting Short-tailed Shearwaters breed annually on the islands and headlands of south-eastern Australia, especially Bass Strait, Tasmania, in individual colonies of up to three million burrows. Laying in this species is extraordinarily synchronous, with 85% of eggs laid within three days of the mean 25-26 November. Chicks hatch from the 10th of January onwards after a 53 day incubation period and fledge in the last half of April to the first week of May.
A popular name for this species, the 'muttonbird', stems from its exploitation for food and oil for more than a century. At its peak this harvest took more than one million young annually; at present about 300,000 young are taken recreationally and by commercial operators.