Silver Gull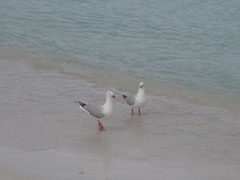 There are three resident gull species in Australia including the Silver Gull. Perhaps the most obvious Australian seabird, the Silver Gull is not likely to be confused with any other. Silver Gulls are found widely across Australian coastlines, rivers and inland waters. They tend to form loose associations with other species of both land and sea to exploit locally abundant food resources.
The Silver Gull breeds in all Australian States and Territories, though far more common in southern waters than in the north. These gulls even breed far inland at Lake Eyre when conditions are right and summer rains bring floodwaters to the dry desert. 2 or 3 eggs are laid and incubated by both sexes for an average of 24 days. Chicks are running and swimming strongly after 3 - 4 weeks, when the adults take them away from the nesting site. The young tend to disperse when about six weeks old and parental care ceases.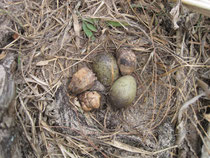 During the breeding season Silver Gulls predominantly eat fish, amphipods and plant matter. At inland lakes, gulls take large quanties of brine shrimp, lizards and insects. Gulls will also take other bird eggs and young. When flying ants swarm they attract large numbers of gulls in an aerial feeding display. Kelp fly larvae are an important item in the diet when seaweed banks are exposed by wind or tide. In large cities and towns domestic and factory waste forms a large part of the gull diet. This has lead to a dramatic increase in the Silver Gull populations across Australia.